Book: Bloodline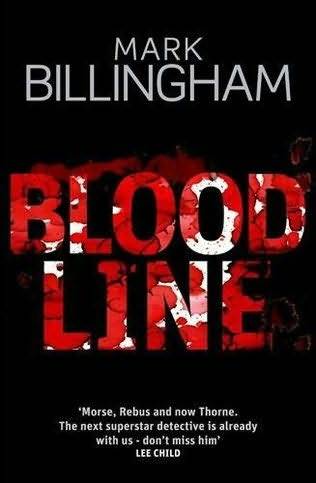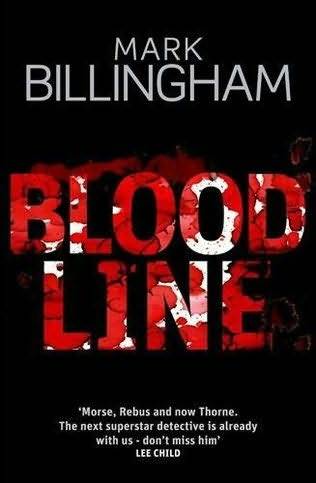 Bloodline
The eighth book in the Tom Thorne series, 2009
Debbie and Jason
'Come on, pigeon! Let's go blow at the trains.' Debbie Mitchell tugs at her son's arm, but he pulls hard in the opposite direction, towards the chocolate Labrador the old woman is struggling to control. 'Puff-puff,' Debbie says, blowing out her cheeks. 'Come on, it's your favourite…'
Jason pulls away harder, strong when he wants to be. The noise he makes is somewhere between a grunt and a whine. Anyone else might think he were in pain, but Debbie understands him well enough.
'Dog,'he says. 'Dog, dog!'
The old woman with the Labrador smiles at the boy – she has often seen the two of them in the park – then makes the same sad face as always when she looks at his mother.
'Poor thing,' she says. 'He knows I've got some treats for Buzz in my pocket. He wants to give him a few, don't you?' The dog hears this, pulls harder towards the boy.
'Sorry,' Debbie says. 'We need to go.' She yanks at Jason's arm, and this time his cry is one of pain. 'Now…'
She walks fast, glancing over her shoulder every few steps, urging Jason along. 'Puff-puff,' she says again, trying to keep the terror from her voice, knowing how easily he picks up on such things. The boy starts to smile, the dog quickly forgotten. He runs alongside her making chuffing noises of his own.
The dog is barking somewhere behind Debbie as she hurries away. The old woman – what was her name, Sally? Sarah? – meant well, but on any other day Debbie would have said something. She would have smiled, concealing her irritation, and explained that Jason was nobody's poor anything. That there was no happier child alive, no child more cherished.
Her precious boy. Nine next birthday, with hair on his legs already and an extra-large Arsenal shirt. Who will almost certainly never be able to feed or dress himself.
'Train,' Jason says. Tries to say.
She hurries across the lower field, past the bench where they usually sit for a while, where they have an ice-cream sometimes in hot weather, then Jason runs ahead as they move on to the football pitch. They've been coming here for a couple of years and, as she hurries towards the familiar tree-line that borders the railway tracks, it strikes her that she doesn't even know what the place is called; if it even has a name. It's not Hampstead Heath or Richmond Park – there had been a flasher active for weeks the previous summer and sometimes the local kids lit fires at night – but it was theirs.
Hers and Jason's.
She checks behind again and keeps moving. Walking, fighting the urge to run, fearing that if she does, someone will see and try to stop her. Seeing no sign of the man she's watching out for, she picks up her pace to catch Jason. He's stopped in front of the goalposts to take an imaginary penalty, same as always. He does it whether there's a game on or not, and the boys who play here are used to seeing him charging on to their pitch and flapping around by the goal, waving his arms about like Ronaldo. Sometimes they cheer and none of them laughs or pulls faces any more. Debbie could kiss each one of the little sods for that. Brings them cold drinks now and again, or a few cut-up oranges.
She takes Jason's hand and nods towards the bridge, a hundred yards ahead and to the left.
They move quickly towards it.
Normally they'd have come the other way, through the entrance opposite her own place, which would have taken them across the bridge on the way in. There would not have been any climbing on plastic chairs and scrambling over her friend's garden fence.
But this was not a normal day.
When she looks around again, she can see the man on the far side of the football pitch. He waves and she fights the urge to shit herself on the spot. He couldn't reach them in time, she thinks, even if he ran. Could he? The fact that he is just walking, though, the confidence in his easy stride, terrifies her more than she ever thought possible. Convinces her that she is doing the only thing she can. She had known even before she'd heard him talking on the phone. She'd seen it in his eyes and in the dreadful red stain beneath his jacket.
The man waves at her again and starts to jog.
On the bridge, Jason stops at his usual spot and waits for her, knowing that she will help him see the train when it comes. He looks confused when she moves to his side. He puffs out his cheeks and waves his arms.
There was a metal safety-barrier once upon a time, but bit by bit it had been pulled down, as soon as those with nothing better to do had covered every inch of brickwork with graffiti.
Who had shagged who. Who was a poof. Who had been there.
She puts a hand on Jason's shoulder, then starts to drag herself up, ignoring the pain as her knees scrape against the bricks, and carefully inches her belly across the top. She takes a few fast breaths, then slowly lifts one leg at a time, up and over until she is sitting. She doesn't dare look down; not yet.
She looks around to make sure that nobody is watching and it is then that she hears the voice of the real policeman. He is somewhere nearby on the far side of the bridge, coming from the other direction. His voice is cracked and raw as he shouts her name, and she can tell that he is running. He keeps on shouting, searching, but Debbie turns away.
Too late, she thinks. Much too late.
She reaches down to pull Jason up, her heart lurching at his smile of excitement. She's always lifted him before, just high enough so that he can see over the edge, watch the train as it thunders beneath them.
This is a whole new adventure.
She cries out with the effort of hauling him up and fights back the tears as he settles down, dangles his legs and snuggles up close to her. He feels the vibration before she does, lets her know in a series of gulps and shouts.
Debbie feels her guts turn to water and looks up to see the train rounding the bend in the distance. The southbound Tube from High Barnet. She knows it will slow a little just before the bridge as it approaches Totteridge and Whetstone station. Still fast enough, though.
Debbie scrabbles for her son's hand and squeezes. She leans down and whispers soft, secret words, knowing – despite any number of expert opinions – that he understands her. He points and yells as the train gets closer, louder. That smile that kills her.
Debbie closes her eyes.
'Puff-puff,' Jason says, blowing at the train.
ALL THAT REMAINS…
AFTERWARDS
Michael
His wife brings in his dinner: jerk chicken and sweet potato mash, his favourite. He thanks her and picks up his knife and fork, but there's little chance of him eating, and when he turns to see her looking back from the doorway, smiles and says thanks again, he can see that she knows it, too.
He's been picking at his food ever since it happened. He's also been sleeping a lot during the day, which he thinks is strange, because he's always been so active, and when he wakes to find his wife standing over him, he can tell that he has not been sleeping peacefully.
'Shush,' she tells him. 'Why don't you ask the doctor for something?'
But he doesn't believe in popping pills for this and that; never has. He knows that it will pass eventually; and, anyway, he would worry about what kind of a man he was if he were not changed by it. If he were dreaming sweet dreams and eating like a horse.
'It's always worse underground,' another driver told him. 'You were lucky in a way. Easier than when you come barrelling out of that tunnel into a station, see that flash of colour as some nutter jumps at the last minute.'
Michael nodded, kept his own council, same as always. The man doing all the talking had never had 'one under', but he claimed to know plenty of drivers who had.
There was no shortage of war stories. Myths and misinformation.
'Yeah, definitely rougher underground,' the man said.
Two, though. Two of them…
'How high's that bridge up there, anyway? Forty, forty-five feet? They were probably both dead before you came along. Nothing you could have done, mate, not a bloody thing. That's something you can rest easy about.'
That driver and several others poured whisky down his neck the day after. He let them, although all he wanted was to go home, crawl between his sheets for a while.
He simply nodded and took another drink.
But he had seen it, seen the woman. Had seen an arm move and seen her raise her head, turn away when the train was almost on her. That was when he had closed his eyes, waiting for the bump. It had been no more, not really, than that time he'd hit a fox on the last run north up to Mill Hill East.
He sits in the front room. The television is on, but the sound is muted. Dinnertime already? It was only half-past ten last time he looked at his watch. He thinks it might be a good sign that the days are moving by a little faster now. The first few felt like they would never end. All the advice and talking in lowered voices.
He needs to ring in and ask when he can come back. Someone from the union came round, but it was all so damned fast and he didn't really take it in. Two weeks' compulsory 'rest', was it?
His daughter called the day after and offered to come home, but he didn't want to drag her away from college so told her he was fine. Now, he wishes she was there. He could talk to her in a way he could never talk to Lizzie, which was stupid, but there you go. He knew his daughter would cope with it all better, with how he was.
'It was their choice, Dad,' his daughter said on the phone. 'You were unlucky, that's all.' That was before it all came out in the newspapers, of course. Choice had nothing to do with what happened to that woman and her boy.
He saw the bodies dropping, of course, the arms and legs, the woman's skirt blowing up around her waist. Just enough time for the wrench in his belly before he was on them, bracing himself for it.
There's a mess of papers on the floor by the side of his armchair, and half a dozen paperbacks piled up on the dining table. He's always loved reading, would come home on a Monday with four books from the library, regular as clockwork. Lizzie had gone and fetched this lot for him, told him it would help to take his mind off things, but he only picked at them, same as the food. The books he likes, thrillers and whatnot, don't seem fitting somehow, and he can no more read one of Lizzie's romances than fly.
'All hearts and flowers and kissy-kissy,' he said to her once.
'Nothing wrong with that.' She pulled a face. 'Better than all that blood and badness you seem to like so much.'
She comes in ten minutes later and takes away his untouched plate. Says it doesn't matter. He's wondering whose job it is to clean up the front of the train afterwards. Thinking that there's always someone worse off than yourself.
'I think I'll take the paper to bed,' Michael says.
He goes up and gets into bed in his underpants, shuts his eyes and hopes there won't be any dreams. He hears a door close somewhere downstairs, feels it through the bedroom floor.
Just a bump. No more, not really, than when he hit that fox.
MY JOURNAL
16 October
So, all over bar the shouting and famous last words' time. Last words in these pages at least, whichever way things turn out later. I should probably try to think of something deep and meaningful, but it's hard to focus at the moment, feeling like this. Ironic that today of all days the headache should flare up this badly. I should probably lie down in the dark for a while, but there isn't time. Things are going to kick off soon.
A nice, friendly card game.
All through this, I've been wondering what my father would have said about what I was doing. I can only hope that he would have approved, but I'll never know for sure. He didn't really want to talk about what he'd done, those women that he went inside for. Maybe it was because he didn't understand it, at least not until the tumour was discovered. But either way, he preferred to keep it all to himself and, much as I was desperate to know, I had to respect that. He decided to keep quiet. That's where we differ.
If the worst happens and I end up in the same situation, they won't be able to shut me up. I'll be happy bending any sod's ear. It'll be solitary confinement for me, just to give everyone else in there a rest!
Have I made a point doing this? I think so. Has it changed anything? It's changed me, which I'll probably have to settle for. Those last words? Well, I suppose it depends on who I'm writing them for. The select few who will ever get to read this. It will probably get read out in court, nice and dramatic, so the more sensitive members of the jury can catch their breath or fight back a tear or two. The juicier bits will almost certainly be picked out as headlines in the red-tops, which will be worth a few quid extra to my old mate in the newsagent's. And I know every page is going to get pored over endlessly later on by the shrinks and the documentary-makers.
Best of luck.
The thing is, though, I'm not sure I care about impressing any of them. Any of you.
At the end of the day, especially a day as important as this one, I can't waste valuable time trying to come up with something profound.
So, fuck it.
Fingers crossed.
Thorne laid down the final page of the file; a thick sheaf photocopied from the dog-eared notebook found among Dowd's things at Grass-up Grange. The journal dated back to the day of Raymond Garvey's death in Addenbrooke's Hospital after the operation on his tumour. The day when everything had changed.
The day when Anthony Garvey had begun making plans.
Thorne reached for his beer and drank deep from the can. He needed it.
'What's going to happen to Jason?' Louise asked.
'It's down to Social Services,' Thorne said. 'Foster care in the short term, I suppose.'
'Their history's not great with him, though, is it?'
'There's nobody else,' Thorne said. Nina Collins had offered to take him, begged to, but she was few people's idea of a fit mother.
Louise lay with her feet up on the sofa, Elvis sprawled across her chest. She reached down, fumbling until she found her empty wine-glass. She held it up. 'Another one would be nice.'
Thorne stood, took the glass and walked into the kitchen.
'Why do you think he did it?' Louise asked.
Thorne bent to take the bottle from the fridge. He blinked and saw Jason Mitchell's face, the desperation in the boy's eyes as Thorne had reached for him, tried to pull him away; the sound of his repeated 'puffpuffing' just audible above the sirens and the squeal of the train's brakes.
'Come with me, Jason,' Thorne had said. 'Let's go back, see Auntie Nina.'
Jason had still been smiling, still blowing imaginary smoke and pointing back towards the bridge, when Thorne had walked him up the path to within sight of the cars and the flashing lights.
'Tom?'
Thorne walked back into the living room and handed Louise her wine. 'Sorry, what?'
'Why did Garvey kill himself?'
'Carol reckons it was always part of his plan,' Thorne said. 'His mother was one of his father's victims. So, he was on his own list.'
Louise looked dubious.
'Yeah, I know.' One or two lines in Garvey's journal had also suggested that he thought he was dying, that he might soon go the same way as his old man. The post-mortem, carried out as soon as Hendricks had flown back from Sweden, showed that there had been no tumour, that Garvey had been suffering from nothing worse than the occasional migraine. It seemed as though hypochondria had been the mildest of his psychological problems. 'It's all speculation,' Thorne said. 'The truth is, I couldn't give a flying fuck.'
He had said much the same to Nicholas Maier when the writer had called, cheerfully reminding Thorne that he had agreed to tell his story in return for Maier's silence.
'We had a deal,' Maier had said.
Thorne had told him where he could stick their deal, then had hung up.
Chamberlain's was just one of several theories about what had happened on the bridge. Debbie Mitchell might have struggled for her life, or at least ensured that she took Garvey with her, down into the path of the train. Perhaps Jason had done it, fought in those last moments to save his mother. The only thing that Thorne was sure of, having seen them sitting on the edge of that wall, was that, until Anthony Garvey had caught up with her, Debbie Mitchell had been intending to end her own life and that of her son.
He found it hard to understand, but equally hard to condemn. The love a mother had for her child – especially when she thought he was incapable of living happily without her – was something he could never fully fathom. Unless and until he became a parent himself. He had almost said as much to Louise, then stopped himself, still wary about applying any pressure.
'We should get an early night,' Louise said.
'Sounds good.'
Thorne knew there was nothing suggestive in her comment. They both needed sleep. Louise was working even longer hours than he was on a messy kidnap case: the family of a building-society manager held while he was forced to enter his branch out of hours and open the safe. Thorne was already busy with two further murders: a domestic and a hit-and-run. Both were brutal and banal and neither was likely to catch the eye of TV news and tabloid editors in the way the Anthony Garvey killings had.
Yvonne Kitson had volunteered to deliver the death message to Sarah Dowd. To break the news that her husband was not the man they had been keeping in protective custody. That the real Andrew Dowd had been battered to death in an unknown location and dumped into the canal at Camden Lock.
Thorne had taken Kitson out for a drink that night and she had seemed glad of it.
'She made me feel like I'd as good as given Garvey the brick,' Kitson had said. 'Or whatever it was he used to smash her husband's head in.'
'Sorry, Yvonne.'
'It's fine. I volunteered, remember?'
'Why?'
'You had the kid on the bridge,' Kitson said. 'We need to spread the misery around a bit.'
Now, the misery was being duly dispensed and the Garvey murders were someone else's to worry about. Another team was responsible for wrapping things up and even though there would be no trial, there was still a mountain of paperwork to scale in preparation for those inquests still to be carried out.
Graham Fowler. Brian Spibey.
Rob Gibbons had been luckier – the knife had missed every major internal organ – though he would not be returning to work any time soon.
Simon Walsh, who called himself Anthony Garvey and later posed as Andrew Dowd, had been cremated quickly and quietly, with only Sandra Phipps and her daughter in attendance. Thorne wondered if there would be many more at the service for Debbie Mitchell in two days' time. He had already booked the morning off, taken his black suit in to the dry cleaner's.
Brigstocke had raised an eyebrow when Thorne had told him why he was booking himself out. 'Time to move on, Tom,' he'd said.
Thorne had said, 'I know,' and imagined walking away from the funeral with Nina Collins' spit running down his jacket.
'It's our job to clean up the shit,' Brigstocke had said. 'That doesn't mean walking about with bits of it stuck to us afterwards.'
Time to move on…
Carol Chamberlain had been round for dinner a few nights earlier, with Phil Hendricks making up an unlikely foursome. He'd arrived with the bottle of vodka he'd promised Thorne and unsavoury tales of the good-looking Swede he'd finally found on his last night.
It had been an enjoyable evening, with everyone drinking a little more than they should, especially Chamberlain. Thorne was pleased at how well she had got on with Louise, but was surprised that she hadn't gone straight home to her husband as soon as she had the chance. She had told him that she would be going back to Worthing in a few days; that she liked to see things through to the 'bitter end'. Thorne had not been convinced, but hadn't pushed it.
She'd held him tightly and thanked him before climbing into the taxi she was sharing with Phil Hendricks. Thorne had told her not to be stupid, that he was the one who owed her. 'All debts are cleared, Tom,' she'd said. 'OK?'
'OK,' Thorne said.
Then she had lowered the taxi window and nodded towards Hendricks. 'If your friend was ever likely to turn, do you think he might go for an older woman?'
Thorne had wished her luck.
Afterwards, he had put on a Laura Cantrell album while he and Louise did their best to clear up. He sang along to her cover version of 'The Wreck of the Edmund Fitzgerald' while he ferried cups and plates through to the kitchen and Louise loaded the dishwasher.
Ten minutes later, with only half the clearing away done, they were in bed, neither of them willing to get up and turn off the light they'd left on in the hall and the song still rattling around in Thorne's head.
'This baby business,' Louise said.
Thorne turned over, leaned up on one elbow.
'There's no reason to rush things, is there?'
He did not know what the right answer was, settled for a hesitant 'no'.
'We can just wait and see what happens.'
Thorne nodded and they looked at each other for a while. Then he turned over again and lay awake, with the words of the song outstaying their welcome as he waited for sleep to take him.
And all that remains is the faces and the names of the wives and the sons and the daughters.
Life and love and murder, kids, whatever.
It was more or less all you could do, he thought.
Wait and see what happens.
I am hugely grateful to Dr Brian Little, who opened my eyes in more ways than one, and to Dr Bob Bradford for his patience and expertise. Both helped to make the complex workings of the human brain a little clearer to my own less than perfect one.
As always, I owe an enormous debt to everyone at Little, Brown, whose support and enthusiasm make the publication of each book more enjoyable and exciting than the last.
Thanks, as always, to Sarah Lutyens, Wendy Lee and Neil Hibberd.
To Peter, the better half of Will Peterson.
And to Claire, of course. For the title and so much more.
Mark Billingham was born and brought up in Birmingham. Having worked for some years as an actor and more recently as a TV writer and stand-up comedian his first crime novel was published in 2001.
Sleepyhead was an instant bestseller in the UK. It has been sold widely throughout the world and will be published in the USA in the Summer of 2002.
Though still occasionally working as a stand-up comic, Mark now concentrates on writing the series of crime novels featuring London-based detective Tom Thorne. The second novel, Scaredy Cat is published in July 2002 and will be followed in 2003 by Lazybones…
Mark lives in North London with his wife and two children.
***
---